For a while I've wanted to write about my Dad, who died last August. I am very keen to try to describe my Dad's character but I find it hard to do justice to a truly unique and special man. So since I'm short of time and writing skill, I thought I'd paste a few bits out of a few emails I wrote at the time: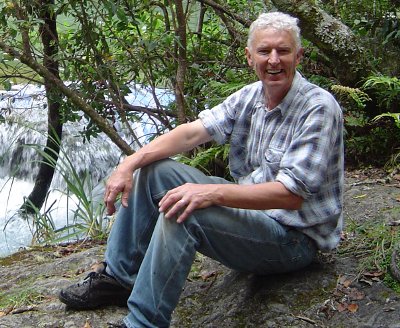 The recent past has been quite crazy. Dad's death was totally unexpected and took us all by surprize. His absence leaves a giant hole for us. He was a huge hero to me in the way that he cared for people, spending hours of his time helping those less fortunate than him, and also in the way he approached everything with enthusiasm and wonder. Our faith brings us huge comfort at this time, as we know he will endure, not just in our hearts, but in heaven until we see him again.
Dad died of a heart attack immediately after playing squash at the Te Puke courts. All efforts possible were made to revive him - a doctor playing on the next court immediately administered CPR, the ambulance arrived minutes later with a defibrillator, but to no avail. We got the phone call at about 9:30 pm on the mathematically significant date 20/08/2008. God had engineered it so that two good friends were round at our place at the time, who proceeded to stay for the next 2.5 hours helping us to pack up the car. We loaded the children in at midnight and arrived at Mum's place in Te Puke at 3:00 am.
The five days between Dad's death and his funeral were quite amazing. We had a constant stream of people through Mum's place where his body was in an open casket, paying their respects to Dad, giving condolences to us and having a chuckle about the things that Dad used to get up to. He taught for 30 years at Te Puke High School up until the day he died, which represents teaching a fair chunk of the Te Puke population, and was well loved by most all students for the way he cared for them, for his jokes, magic tricks and quizzes in class, and for generally making maths fun for strugglers, many of whom would have otherwise given up on maths altogether. The response from the school and community was phenomenal, to the point that it made it a very special time for me and my family, seeing how many people Dad influenced. The volume of visitors, cards, flowers, baking, art, poems, letters, songs that the family received over the time was overwhelming. Two songs were composed about Dad, recorded, and given to us, one by some of the students and one by a fellow staff member - the latter along with some video footage of Dad and his legacy. Impromptu "services" (for lack of a better term) were initiated at Mum's place around Dad's casket on two different occasions. One was from the Te Puke High School kapa haka (cultural performance) group who offered waiata (songs), karakia (prayer) and tributes. They ended by placing a beautiful korowai (Maori cloak) over the casket. A handful of Maori boys were around for most of that five days - it was quite fascinating how they approached things in a very marae-like way. They spent a lot of time in the room with Dad, playing their hip-hop and R&B on their iPods, playing cards, playing guitar and generally mucking around. I thought it was great the way they were comfortable just hanging out, and a dead body didn't phase them at all.
The day of the funeral, Monday 25th August, was pretty much an all blue sky on a brilliantly sunny Bay Of Plenty day. As we went to move the casket into the back of Dad's van (he didn't want a hearse), there was a huge peal of thunder. My friend commented "the earth is groaning to lose one of its saints". Half way across town at the church, one of Dad's colleagues apparently told his wife "they're moving him now". I reckoned it was us hearing the tail end of God saying "well done good and faithful servant" to Dad. It was quite remarkable - no apparent lightning, no other storm signs, just a single peal of thunder that day across the blue sky. I've since written a song about it.
The funeral was awesome, as far as funerals go. It was held in the Te Puke Presbyterian church, which probably seats only about 150 people. There was a marquee erected outside seating another 300 odd, and the church hall seated another 150, with video/audio links from the church to the other two locations. All were at capacity, and we estimate there was probably another 100 people standing outside the various locations.
Dad had implicitly and enthusiastically talked about his funeral a lot, in that his common saying when he heard a song he liked was "oo, I'd like that at my funeral". As a result, we had an extensive list of material to choose from, most of it wildly inappropriate for a funeral. For example, on numerous occasions he told us kids that he wanted his casket to come in to the announcement "the Old Grey Fox [Dad's nickname] has been wiped out!" and then for us to play Wipeout. My two brothers said that we had to honour Dad's wishes. Me and my sister said that we just couldn't do something that would be so apparently insensitive to everyone else, although it would make sense to us. My sister usually gets her way, and this time was no exception. We ended up with a compromise and played only _mildly_ inappropriate songs like Larry Norman's "Why Don't You Look Into Jesus" (sounds spiritual enough, Google the lyrics though). All four of Dad's kids played the funeral, which was a common request from him as well. All four kids spoke tributes to Dad, along with some high-school staff and church members. Mum did a brilliant little talk to the kids there as part of the service, before they went out to do some art.
After the funeral service, when Dad's body was being loaded back into the van, a great number of school students did a mighty haka for Dad. I felt very proud to stand with my family and face their fierce display in Dad's honour. As per an often-made request from Dad, Mandy and I sang "How Could You Say No" (Julie Miller) as the casket was lowered into the grave. Many friends and family helped to cover the grave including Freeman. Like the Americans, I waited until the work was nearly finished, grabbed the spade, got the photo, and claimed the credit for it all.
I then went home exhausted. Preparing for a funeral I found was kind of vast, sort of like preparing for a wedding, but you don't really want to be doing it. Since we all had music and speaking duties as well as catching up with the many friends and family over the previous five days, we were all pretty had it.
We also attended the Te Puke High School Memorial Service for Dad on the Friday. Here Dad got his wish as his four kids (again the band) played Wipeout. It was another very special time for us all, with many tributes and items from staff and students. At the end of it, they announced that someone had been in touch with some people associated with the Warriors (Dad was a huge fan) and they sent down a flag that had apparently flown at every home game in 2008. It was at half-mast outside on the flagpole, and afterwards they took it down and presented it to our family. Accordingly, I took both it and Freeman to the last Warriors home game of the season, where we comfortably defeated the Penrith Panthers, much to Freeman's delight, who has become quite a big fan himself.
Talking to Freeman about my Dad, and the feeling of loss I have for my children missing out on their Granddad, was and is by far the hardest part of it all. Freeman was quite matter of fact about it all, and didn't show too many signs of sadness, but did ask a lot of technical questions about everything. Some of his questions/comments I recall over the time were:
"Why are you crying Aunty Kim? Fox is in heaven with Jesus"
"I hope Fox hasn't died next time we come to Te Puke"
"I'm having two bad days: one, Fox has died, and two, I didn't bring my green bag to Te Puke"
"How come Fox is in the room if he is in heaven? Are there two Foxes?"
"What happened at the squash courts?"
"Did he break his leg?"
"What happened to Fox's heart?"
"Did he break his leg as well?"
"What's an artery?"
"How did it get blocked?"
"What's that thing called again - that thing in your heart?"
"Why is Fox so cold?"
Had my first dream about Dad last night. We were in the military, starting on a naval ship that I fell out of. This would have been OK, were it not for a shark with an unrealistic silicon-expanded dorsal fin that came straight at me and bit the tip of my left big toe off. I was really thankful that the damage was that minor. The military theme continued as I somehow found myself in the middle of nowhere at an army camp, with no flush toilets or anything, just holes in the ground. Skipping some details that need to be skipped, Dad's memorial service soon started. And I suddenly noticed that Dad was standing beside me in the crowd. I gave him a big hug and the proceeded to tell him all of what had happened since he died. It didn't really occur to me how odd it was
that I could be telling a dead man about his own funeral,
why I didn't seem surprized that he was there and
why anyone else didn't seem surprized either.
The service just continued. Then I woke up. Strange but quite happy while it lasted.

In so many ways aspects of Dad's life and his effect on almost an entire town made a deep impression on me, and I count it a privilege to have experienced that first hand.